Airfield Blog
6 June wow just look at that sky
winds 200/15, showers at times, good thermal day
Temporary class D airspace around Kemble stopped airfield activity for an hour in the middle of the day, otherwise a quiet day.
Many thanks to David Hart for driving the winch in the morning and Simon took his CFI hat off and donned his winch driver hat for the afternoon. Adrian Giles managed the winch driver cover remotely from the wilds of the north
The course continues to go well, all 3 trainees are now managing unprompted flights and just beginning to practice launch failures.
The outlook for tomorrow is poor as a low pressure is passing over the country with its associated fronts. Fingers crossed we will manage to continue with the course training.
Dave Breeze gave 21 grass left a trim with the grass cutter, looks a lot smarter now, thanks Dave.
5 June the day just got better
winds 240/20, cumulus rising to 4500ft
operating off 21, the thermals rather broken lower down but some reasonable strengths.
The K23 and K21 were busy all day and a good turnout of club members. Many thanks to Steve (again) for steppig in and driving the winch for us.
The course continues to go well with circuit practice and trying to master that stick and rudder co-ordination.
The pictures show John McW getting set up to launch his Pik20 and Mike trying to figure out how to get into the driving seat.
Forecasts predict a good day tomorrow, so if you want a 300K or 500K come on down.
4 June a showery day but good for training
winds 100/10, cloud and showers predicted. Some thermal activity around midday.
09 operations to start, with launches to around 1200ft. At the start of the day we often found ourselves above the lower layers of scattered cloud. later in the day the winds shifted to southerly and then finally to a steady westerly and so we finished the day operating on 21.
All of the course are now flying the launch and landing and are working on circuit planning now. Well done to them.
Chris Power and David Hart did a fantastic job keeping the winch cables coming, thanks chaps. Barry Taylor spent the day with us helping out at the launch point.
The evening group cancelled because of the unpredictable nature of the weather, probably a very wise decision.
We are steadily picking up the litter from the airfield, and the place is steadily getting back to normal. everyone can help us with that, so next time you are here make a point of disposing of some of the debris around the place.
3 June A new course begins
winds 240/20 good visibility, strong thermals from around 12 noon.
Many thanks to Steve and David for helping out with the winch and ground training. It helped make a successful day.
The university students spent the day getting their K8 up and running with the assistance of Robin Birch. All it needs now is insurance and it is good to go.
The tugs from the competition steadily departed to their respective homes.
Class D airspace around Kemble meant we had a slow start, the lost time was used to teach the basic principles of a DI. Welcome to Robert Whalley, Stuart Hall and Niall MacAuliffe. They will be on the course for the week---lets hope the weather behaves itself.
The picture shows the ground training in progress, the students learning how to handle winch cables safely.
Tomorrow we have Chris Power and David helping with the winch.
23 May Avro learns to drive the bus.
winds 250/10, good thermal day, blue at times and climbs to 5000ft QFE
The superfox gave us a demo of its performance today, and a few free aerotows for those that were here. Echo India is an impressive microlight tug (it has strange tundra tyres though). Thanks are due to Adrian for making this trip possible and thanks are due to the owner for his generosity.
The competition preparation continues as people start arriving with gliders and caravans.
Avro visited us from New Zealand, the happy little dog was content to inspect the driving controls of the bus!
The course continues to go well, David Potter consolidated his conversion to single seater by completing his 2nd soaring flight for the cross country endorsement, Mayur Bodani started to get the hang of thermal centring with a climb to 4990 ft--shame about the last 10ft, Ethan Maya has now completed his aerotow training and is polishing his soaring skills.
The evening group took over and flew a group of visitors.
We are looking forward to another great day tomorrow.
21 May New hangar door.
winds 330/10 with strong thermals from around 10 am.
A few members ventured out today to enjoy the fantastic soaring.
The course proceeds well, David Potter achieved his 1 hour soaring flight for XCE, Mayur is now the handling pilot throughout the flight, and Ethan has learnt a few new skills.
The hangar doors were worked on today, we should now have 1m more space to get the gliders out.
Dave Breeze continued the grass cutting programme today, sadly the landing area on 03 could not be cut because we were using it!
20 May Monday
winds 330/10, good thermal conditions with high cloudbases
A new course starts today, welcome Ethan, David and Mayur. David resoloed today, Mayurs first day gliding and landing already, Ethan finished the day with a thermal climb and then a side slip approach. Thanks David Hart for all the tutorial work.
Lots of other activity,preparation is underway for the competition, the farmer fertilising the grass, caravans have started to arrive and tomorrow should see the new hangar doors installed.
Another good soaring day tomorrow.
18 May Pete Robson goes solo
winds 030/05, cloud 1000ft QFE and rising. Thermals pm
A nice early start with the enthusiastic students making bacon sandwiches before briefing at 8.15
Cloudbases rose quickly and Pete Robson practised his launch failures prior to goinf off solo for the first time. Well done Pete.
17 May
A warm front passed from East to west last night and another front is due during the day bringing light rain and showers on and off through the day wind 060/20 (operating off 03).
Flyable but soaring and cross country unlikely. Evening club flying planned from 1600 onwards.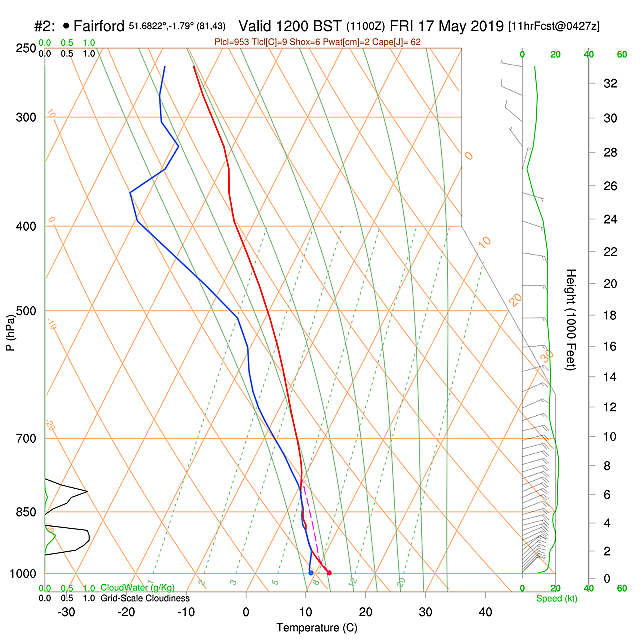 16 May fantastic soaring day
Winds favouring 09 at 10 Knots. Cloud bases rising to over 4000 QFE with cumulus.
Matt set off first thing to Hus Bos in the motor glider to hopefully complete his full rating test. While Doug Gardiner set off with his trailer to get his glider back from a secured field in Banbury, I know best ask him---its complicated.
Barry Keys had a one day course to complete so the course members benefitted from a 2nd instructor. With his help we managed to catch up on the flying programme.
The afternoon was excellent soaring with climbs to nearly 5000ft, difficult to get away from the winch but definately worth the effort.
Flying continued into the evening with a busy evening group.
Letter of agreement with Kemble
15 may Club day
winds an awkward 120/10 knots, soarable in the afternoon with tight thermals in the blue. Visbility about 35K. Possibility we will need to use 09 for launching.
The remainder of the cut grass should be collected today.
Tuesday 14 May
winds 090/10, blue, thermals pm to about 3000ft
Another good day for the course, loads of flying and everyone getting the hang of landing on the runway.
The standard cirrus and libelle came to join us. Andy Davey managed a decent soaring flight in the local area.
Good to see another visitor from Dartmoor Gliding Society, Colin Boyd popped in for a few days.
Grass collection is almost complete, the airfield now looks like an airfield again. many thanks to Jules who spent the day cutting the grass around the camping areas and hangers before cutting the landing strip 21 grass right. barrie Taylor brought out the 2nd tractor and cut the cable runs.
Briefing after flying covered launch failure procedures and mcReady. A pleasant meal afterwards of an Indian tapas (well thats what I think it was)
Club day tomorrow looks much the same forecast.
13 May Good forecast brings out the members
winds forecast 120/10, no rain, blue conditions, thermals from around 11am.
A new course starts today with Nigel Graham and Colin. Andy Davey here with his libelle for the week.
The awkward winds made circuits a challenge, long groundruns were the theme for the day with a number of incursions into the cut grass waiting collection. The grass will be collected over the next few days.
The soaring was not as good as hoped, with broken thermals lower down. Despite that there were a number of notable soaring flights. it was good to see a brace of libelles at the launchpoint.
Our grass cutting is now underway, David Taylor kicked off by cutting the landing strip 21 grass left. Thanks David.
The evening briefing was on circuit planning and followed by a lively discussion. Colin is seen explaining to Graham.
Sunday 12th May
An excellent day for both the cross country brigade and the more local activities. Some exceptionally strong thermals persisted for most of the day under wall to wall cumulus. Even when it went blue locally late in the afternoon it remained possible to get away every time from a winch launch (for some at least).
Our University of West England members made full use of the conditions for their training weekend and we managed to cope with the scheduled 7 trial lessons in spite of grass cutting and a winch tangle. Many thanks to those who kept us going in spite of that and one or two other little difficulties.
Saturday May 11th
Continuing on yesterday's theme on what a great club we have the photograph shows the fleet out of the hangar at 8.35 am and being washed by UWE and Scouts under the direction of Jerome the scout master.
An excellent day followed, with everyone on the flying list filling their boots with a mixture of winch launches and aerotows. Nearly everyone had soaring flights in the rough conditions.
Adrian
Photo: Jerome
10 May A good soaring day, UWE students joins us for a Friday evening training session
winds 240/10, showers possible and some excellent soaring.
Adrian brought the tug out for us which allowed Tim Bralesford to complete the spin training for his BI rating, David and johnathan were also able to experience and practice an aerotow launch. Thanks Adrian.
Charles Linton took over the winch for a few hows which gave Dave some time to get the new mower out and cut some of the landing areas. Richard and Tom got on with repairing the 4X4. All this background work is appreciated and is what makes CGC such a great club.
As is typical for the last day of the course, the members were doing a lot of solo consolidation and practising soaring.
Simon Lucas and team were here to lead the friday evening training session with David Roberts taking over the winch.
Good to see the K23 rigged and back on line. Hopefully not too long before the K18 weighing is completed and that will be back in service.
9 may Dinner at the Crown
occluded fronts passing through causing showers and low cloud interspersed with flying weather.
A mixed day for the course with Johnathan and David completing part of their bronze C oral test. David resoloed in the K21 and Johnathan reinforced his previous solo flying.
Tim Brailsford completed most of his BI preparation in readiness for the BI training proper
We all then moved down to the crown for a convivial meal and a beer.
Tomorrow will bring better conditions and hopefully some aerotow training, see you then.
8 May Weathers here wish you were nice
low cloud and rain until around 11am. Winds freshening to 180/15 by the end of the day.
The day started with a briefing on Altimetry, everyone now knows the difference between their QFEs and QNHs.
Practice launch abandonment started the day, followed by some stunning soaring in the rapidly cycling weather. Flying at 70 knots with the brakes open and still going up!!
Tim Brailsford undertook some preparation for his BI training which included ultra low launch failures.
Thanks to Richard and Tom for securing the lights on the bus---try to guess who is the supervisor?
A very good day had by all.
7 May First day of course.
Winds 180/10 visibility 30 K, Cloudbases 4000ft plus (QFE) strong thermals most of the day.
3 rather smart cars were parked in front of the control tower, Rover, Daimler and a Maserati. We welcome Mike and Johnathan Hatchett with Tim Brailsford tagging along. Mike and Johnathan are serial course goers and Tim (now the proud holder of a helicopter PPL) is a club member.
Some good soaring to be had today, and David and Johnathan were put through their paces with more intense refresher flying. Johnathan went off solo on the last flight of the day.
Club members turned up to help and to take s flight or two in the K8. Alun, Eric and David Hart all flew and helped out on the ground---many thanks for that.
The K21 was inspected (defective wheel brake) and put back into service, thanks to Robin Birch (seen in picture preparing for its flight test.
grass cutting of the cable runs was underway today, and when weather permits we plan to cut the landing strips to keep the grass at more normal lengths.
Evening flying of a group of Scouts started around 6 pm and continued until dusk.
The weather tomorrow (Wednesday) looks problematic with winds and rain predicted---however the briefing room will be open and briefings ongoing for those who are prepared to wait for the rain to clear (which it will).
Upcoming events, Friday evening a UWE flying event will start around 4pm---why not come along, meet the students, lend a hand and maybe pinch a cable ? A good start to the weekend.
Pages